Wow, this is a surprised to me too, I heard about Sylvanian Families but I didn't expect them to actually come up with a Kuji! For Kuji fans, you can check on Sylvanian Families, they are a pretty huge toy line. For Sylvanian Families fans, if you are new to Kuji, it is basically a ticket system where you get to buy 1 ticket and draw your prizes instead of directly buying the toys!
This is also the first time Sylvanian Families has officially created a ticket system for their Kuji, in the past I believe they used lottery balls.
Retail Price: SGD15.50 / 660 Yen
Total Tickets: 60
Released Date: 28th August 2021
The ticket is a little expensive when compared to standard Kuji as this product is not available in Singapore so anyone who wants to get this will have to buy from shops that parallel imported the product, hence the price. The total tickets is pretty low, perhaps that means it's easier to pull good prizes!
Prize A (1 piece)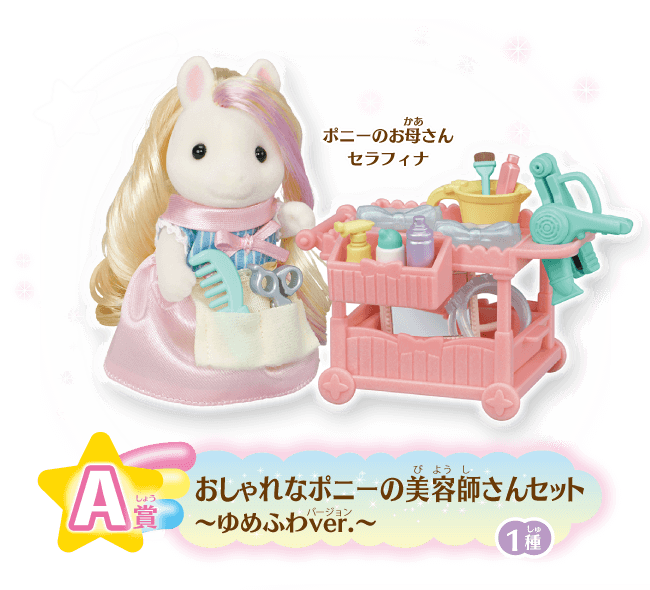 Okay, maybe I was expecting a treehouse or a vehicle to be the A prize but for the price of the ticket, maybe we have to lower our expectations. The hairdresser figure looks good with all her accessories and the retail price for such figures is around $30 to $40 so definitely worth your ticket price but the unjust part is there's only one of such prizes in the set.
Prize B (1 piece)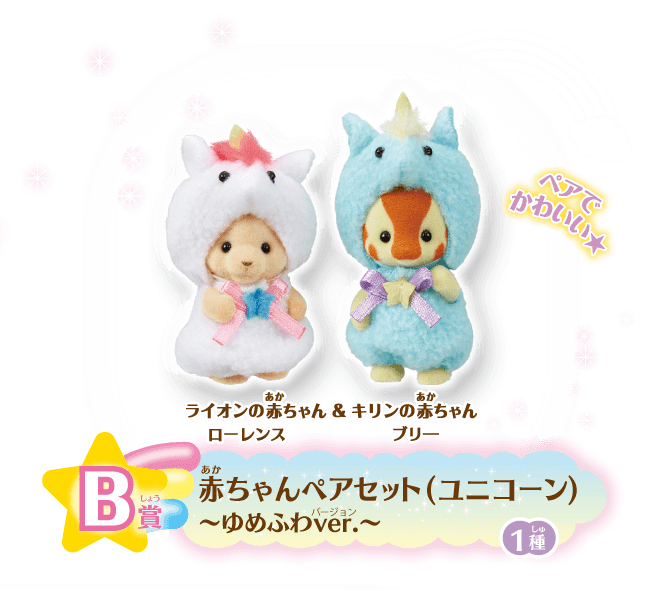 What's better than a single character is a double character pack! These 2 look adorable and retail price for 2 figures is around $20 to $25 so you don't make much loss also. And again, very curious why they are only giving us 1 of this in a set.
Prize C (12 pieces)

Next are single characters pack, all of them look gorgeous and if you are collector or simply a fan, being able to pull any one of these should make your day. A figure retail price is around the same as your ticket cost if you manage to pull this you will just break even.
There are 4 designs, each characters should have 3 pieces each in a set, they are not blinded, so after pulling you may choose your preferred character! I believe some of them are more popular, so do play early to be able to pick!
Prize D (14 pieces)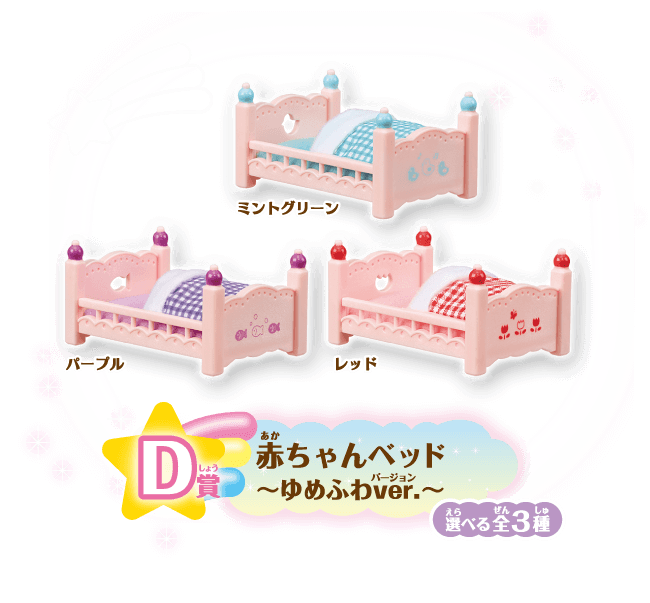 Next are the beds, the only prize in the set that does not feature a character figure, which does not mean that's a bad thing! Having characters but no accessories can seem plain and the beds kind of give you a better way to display your characters! I believe they are able to interact with the smaller figures. Retail price should be around $10 for a bed so you shouldn't make too much loss for pulling this!
There are 3 designs, I believe the Red and Purple one have 5 pieces each while the Blue has 4 pieces in a set. They are not blinded also so you can pick your favorite color!
Prize E (32 pieces)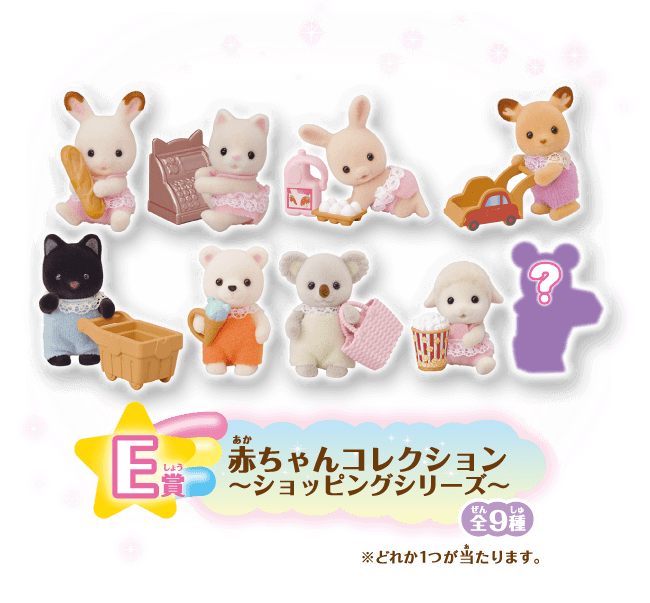 More than half the tickets are filled with this prize and they are not bad at all! These figures are so adorable and they each comes with an accessory! The retail price is around $10 for a figure pack so once again, I don't think you are making a huge loss if you pull this prize.
There are 9 designs, 4 of them have 3 pieces each while 5 of them have 4 pieces each in a set, they are placed in a blind bag so you cannot choose your design, but all are cheap, just hope you get the one you prefer!
Last Prize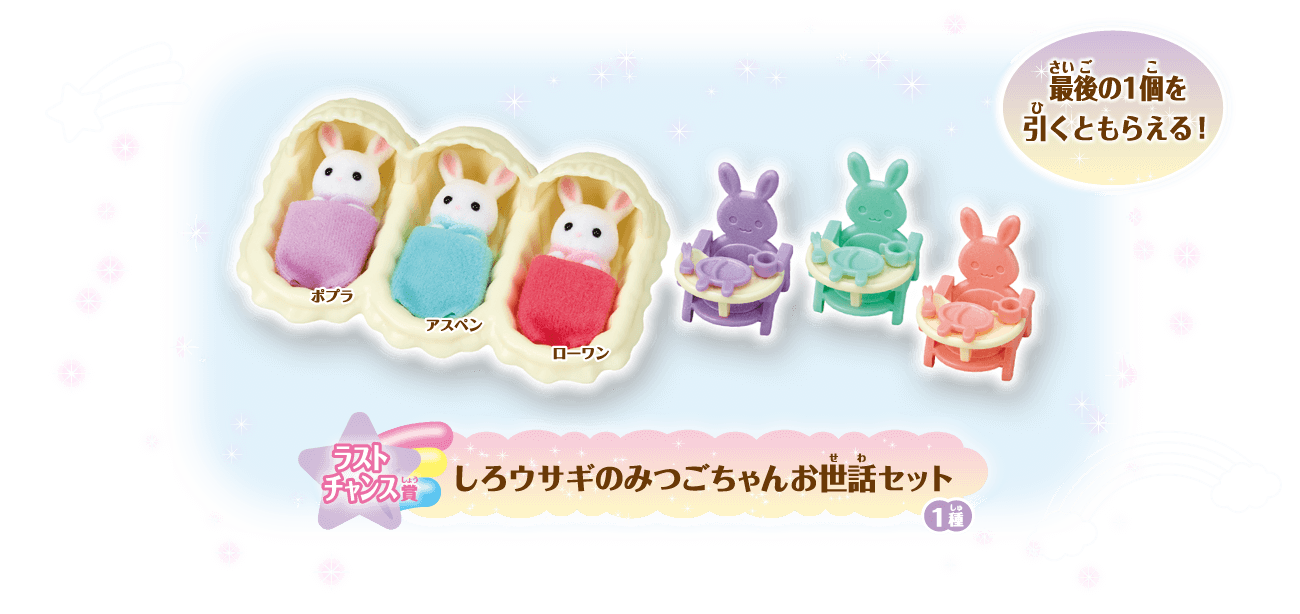 Wow, the last prize is almost as good! The triplet sets are adorable and they come with all the necessary accessories. The retail prize for these are around $35, and you get this for free if you manage to buy the last ticket! So if you see a good buy out number, just buy out and enjoy this amazing set.
Kuji Calculator
[CP_CALCULATED_FIELDS id="29″]
Grading
Criteria
Score (Upon 10)
Remarks
Design
8
All the prizes here looks attractive, and they all seem to have a baby theme, which makes everything more appealing
Top Prizes
7
Both figures are great, maybe not as great as a big house or store or a car but still good enough to attract attention
Small Prizes
8
All are figures or beds, so you aren't really getting shortchanged.
Last Prize
8
Unique
Another big pack, valuable.
Monetary Value
7
I think for the money we are paying in SGD, it's fairly alright, if direct conversion to Yen this worth be super value for money, but $15.50 is just decent for the prize, you are getting something good too.
Collection Value
8
Hairdresser/Double Pack/Triplets: These will be valuable to collectors especially since they are exclusive to this set.
Beds/Single figures: Having a set will definitely retain it's value over time, all these are exclusive to this kuji too, if you have a full set, you can increase your selling price in the future, but of course the blinds are gonna be an issue to collect them all.
Overall
76.67% (B+)
A good set, the price comparison are from retail versions, everything here is only available by buying tickets so the things you pull should have more value. Maybe if they were to give at least a vehicle for the top prize the whole set will be way more valuable, but it's good enough.
Recommendation
Casual Fan: Just try with 1 or 2 tickets, maybe 5 at most for the top prize and just keep those adorable figures.
Collector: I believe if you have some Sylvanian Families collection, buying 10 tickets wouldn't be too much to ask, you might be able to get as many C, D and E to add them to your collection.
Super Collector: If you intend to collect everything, you might have to wait for a good buyout, maybe 20 to secure the last prize and hopefully the A and B as well. Then trade your spares C, D and E and buy the ones you missed out from those who pull it.
Good luck for you pulls! Let me know what did you get!
Where to buy tickets
To my knowledge, here are the place(s) that sells this Kuji:
Zettai Hobby
https://zettaihobby.com/collections/kuji-live/products/epoch-sylvanian-families-kuji-august-2021-live-draw-tickets-60-tickets
Image credits: